Product Description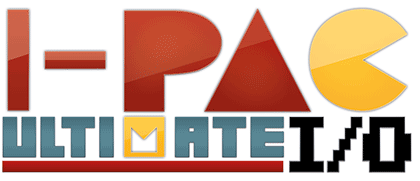 I-PAC ULTIMATE I/O Advanced PC interface
For Arcade Buttons, Joysticks, U-Trak Trackball, SpinTrak Spinner and LEDs.

Harness Options:
Board, USB & Power Cable ONLY - This option is for customers who want to create their own wiring.

4.8mm - This size crimp is mainly used for standard arcade buttons E.g. Happ, IL & Classic buttons

4.8mm/2.8mm - This option allows you to use standard joysticks (Happ, IL etc...) with Japanese buttons (Sanwa or Seimitsu)




Full Speed USB 2.0. 48 Inputs, 96 outputs. Upgradeable Firmware.

NO EXTRA WIRING required for most standard installations. All switch wiring supplied. Trackball and spinner simply plug in. RGB LEDs simply plug in (Ultimarc Ultralux or ClassicRGB).

This board has a total of 176 connections. If you were to hand-wire every LED and switch this would be a total of up to 576 wire ends to strip and connect! Which is why we have done it for you!

Player 3 & 4 Wiring
If you already have the I-PAC Ultimate board and only require the 3 & 4 player connection pack, we sell this separately here: Player 3 & 4 Connection Pack For I-PAC Ultimate I/O Interface

48 inputs each with it's own dedicated microprocessor pin. No interaction or delays, vital for multi-button games such as fighting games.
Emulates a USB keyboard and yet breaks through the USB simultaneously-pressed-switch limit of 6 switches (plus ctrl,alt,shift) which afflicts all USB keyboard devices. This is because it has inbuilt full native USB support, and does not rely on an add-on adaptor.
Multi-mode operation emulates either keyboard/mouse/LEDs, dual gamepad/mouse/LEDs or Dual Xinput controller.
All input pins can be assigned to any keyboard key, gamepad button (including hat switch), mouse button or power/volume control. Also sleep/wake.
Inputs can be assigned as trackball and spinner and our U-Trak and SpinTrak devices plug directly into the board.
Shift function which allows ANY input to be assigned to a shifted secondary keycode and the shift button can have it's own function too so no need for a dedicated extra control panel button.
Self-test LED which gives an instant visible check of your installation.
96 channel LED controller with constant-current drivers. Also 6 high-current 1 amp drivers.
INTERACTIVE configuration utility which applies and reads back any changes "on the fly".
MAME Defaults pre-loaded.
I-PAC Ultimate I/O retains it's programming after power off. Beware! Not all keyboard encoders do this!

The I-PAC series (Interface for PC to Arcade Controls) are boards which allow connection of arcade controls such as buttons and joysticks to a USB port on a PC motherboard. They are designed around the MAME emulator which supports over 1000 arcade games and can be used with other emulators.

It is designed to be used inside an Arcade Games cabinet with the PC motherboard also mounted inside, but could just as easily be used with simply a control panel without a cabinet. Special shift function buttons mean that a normal keyboard is only be needed for game loading and configuration, not for gameplay. All key codes can be programmed but you don't have to as you can use the built-in default configuration which has all standard MAME codes for quick and easy installation. Programmed keys codes are stored even after power off.

Full Feature List:
Inputs:
* Fully programmable key code set. Stored even after power off unlike some other interfaces which lose all data when powered off.
* Controls can be assigned to any keycode, gamepad button, plus mouse buttons, power, volume up/down, sleep or wake.
* Multi-mode operation, can emulate keyboard/mouse/LEDs, dual gamepad/mouse/LEDs or Dual Xinput controllers.
* Wiring harness supplied for 32 input connections. Additional harness options for the other 16 inputs. Connections marked on the board.
* Trackball and spinner interface. When enabled these use a total of 6 of the available 48 inputs.
* Example configurations include: 2 player with trackball/spinner. 4 player without trackball/spinner.
* Self-Test LED gives an instant check of all your wiring. Can indicate which, if any, input has a problem.
* All button inputs referenced to ground - no need to re-wire separate grounds to each button.
* Supplied USB cable plugs into PC USB port.
* Using host software, an unlimited number of keycode configurations can be stored and downloaded on-the-fly. Retained on power off.
* No separate power needed for controls.
* Does not use a matrix - no ghost keys.
* Does not use a scanning method which causes a variable delay. Each input has it's own dedicated connection into the on-board CPU .
* Fast running interrupt-driven software gives much better response than a standard keyboard controller. Key debounce uses a state method for each key. No delays between keys depressed at the same time. (essential for fighting games).
* 2 operation modes. Either uses standard MAME keys or you can program your own character set.
* Shift functions. Holding "Start1" and pressing other buttons sends a range of codes for MAME functions such as "escape", "Coin 1", "tab", "enter". This means no extra buttons are needed on the cabinet. In programmable mode any input can be the shift key and all keys can be programmed with a shifted code.
* Special note for Windows MAME users! Shift key functions mean you can select and start games from the Windows interface without using the keyboard or mouse.
* No special drivers needed. USB drivers are generic Windows.
* Fully compatible with all Apple Mac (excl config utility).
* Supports the Apple Mac "command" key and the Windows "GUI" keys.

Outputs:
* 96 LED channels with 256 brightness levels for full RGB colour mixing
* Can be used with single-color or RGB LEDs (RGB use 3 channels)
* Constant current negates the need for resistors for each LED
* Can be used with LEDs with inbuilt resistors if required
* 128-command flash storage for "attract-mode" or test sequences which run immediately on power-up with no PC present
* Supplied configuration utility allows customisation and storage of attract-mode LED sequence.
* Supports single-command fades with preset speed on-board. Multiple fades can overlap
* Comes with power cable for plugging into a PC disk drive power connector.
* Extensive software support including test application, Software Development kit for adding support to your own programs, and LedBlinky third-party software
* Compact modular connectivity. Our Ultralux RGB and ClassicRGB pushbuttons simply plug in. Other harnesses and connectors available.
* 6 X 1 amp MOSFET drivers which are suitable for LED strips and other high-power LED applications.

Configuration Software:




LED test and scripting utility can be downloaded from the PacLED64 product page






WinIPAC for reconfiguring controls


Installation Information:
Click here for switch wiring information

The diagram below shows some examples of connected devices. For clarity only a few items shown.

LED support works in an identical way to our PacLED64 except there are 96 LEDs instead of 64.
LEDs can be controlled using our SDK or the third-party LEDBlinky utility.
The board is supplied with a power cable which supplied 5 volts to the LED power black connector from a spare HDD connector.
Alternative power source can be used such as a wall-plug power supply. Voltage should be 5V for all LEDs supplied by Ultimarc. Current 0.02 amps per LED channel.
Ensure CENTER pin on the connector is 5V, BARREL is ground. Connector is 5.5mm diameter, 2.1mm pin.
The board is shipped with a pre-configured LED script which fades up all LEDs, then down, then enables each LED in turn, to one color, then cycles. You can change this script if you wish. The LED script runs from power-on even before the PC is running and stops running as soon as any control is activated.

The 9 Single Colour LED Wire Connection Pack For I-PAC Ultimate I/O Interface are suitable for connecting single colour LEDs to this board.

Click here for LED wiring information




What to Order:
Example Configurations
Items to Order

2 Players using Goldleaf RGB, Ultralux RGB or ClassicRGB buttons, U-Trak trackball, Spintrak Spinner

Nothing extra required. Order Board with 2-player harness kit.




This includes:




USB cable




LED Power Cable




32-way harness




Ground daisy-chain harness

4 Players using Goldleaf RGB, Ultralux RGB or ClassicRGB buttons, No trackball or Spinner (these are not supported in a 4-P config)

Order standard board/harness (see above)




Order 4-player expansion kit.

Either of the above but using single-color LEDs such as Ultralux.

Order as above plus one "LED Connection Pack" per 9 LEDs, Also one "Daisy-Chain Harness" per panel for LED common connections.

Optional Extras

Extension Harness Pack. This is used for unusually large panels for increasing reach of any longer wires.




PCB Mounting Feet


The above picture shows an example of the board fully wired for 2 players:
* Power Cable
* USB Cable
* Switch harness
* Daisy-chain ground harness
* LEDs (not included). Note these are examples only, to show connection. Our Ultralux RGB, Goldleaf RGB and ClassicRGB LEDs have longer wires than those shown.
* U-Trak Trackball (not included)
* Spintrak Spinner (not included)

This board will also control the Illuminated RGB Ball Top Shaft

Wiring Harness Detailed Information:
Harness
Wires
Length
Main Harness
Included
32
330mm / 13 inches
Daisy Chain Ground harness
Included
32 Links
90mm / 3.5 inches per link
LED Power Cable
Included
n/a
1.5 M
USB Cable
Included
n/a
1.5 M
Extension Harness Pack
(Wires replace existing)
Optional Extra
10
560mm / 22 inches
Player 3,4 Harness
Optional Extra
20 Plus 20 Ground
560mm / 22 inches
9-LED Connection Pack.
Required for each 9 single-color LEDs
(Our RGB are pre-wired)
Optional
9 plus common
560mm / 22 inches
Product Videos
Custom Field
Product Reviews
perfect addition to have all your controls connected to one board and one usb to a pc

I love the I-PAC series interfaces and the Ultimate is no exeption! They just work, and are so easy to install.

My System is 2 Player Cabinet. RGB LED Joysticks, RGB LED and Arcade Buttons. My Buttons Numbers is 26. Interface Settings is Keyboard Type. I Used Hyperspin and LED Blinky. I-PAC Ultimate I/O Interface is Great PC Interface.

It works perfectly with my PC & laptop. No issues with the board (provided you wire it correctly ;-) ). Lighting support is great too. Apart from that: My first board was broken and I got it replaced with no hazzle. I wish I could say that about other onlineshops as well...